Like every creation tool, SketchUp allows you to give life to your imagination and then – share it with the world.
In the latest version, SketchUp Pro 2019, the user has the possibility to focus exactly on that.
Great functionality in a fast and easy work-flow!
Major Changes in Sketchup Pro 2019
One of the major changes is the option for subscription licensing. This has become a trend among 3D software lately and is no surprise for people following the industry. It might sound scary to older users, who are used to the perpetual licensing, but it's actually a great way of moving forward. Not only this allows people to use the product for as long as they like, resulting in higher cost-effectiveness, but also – it creates the opportunity of always working with the latest SketchUp version, ensuring that you have all the latest developments and features available.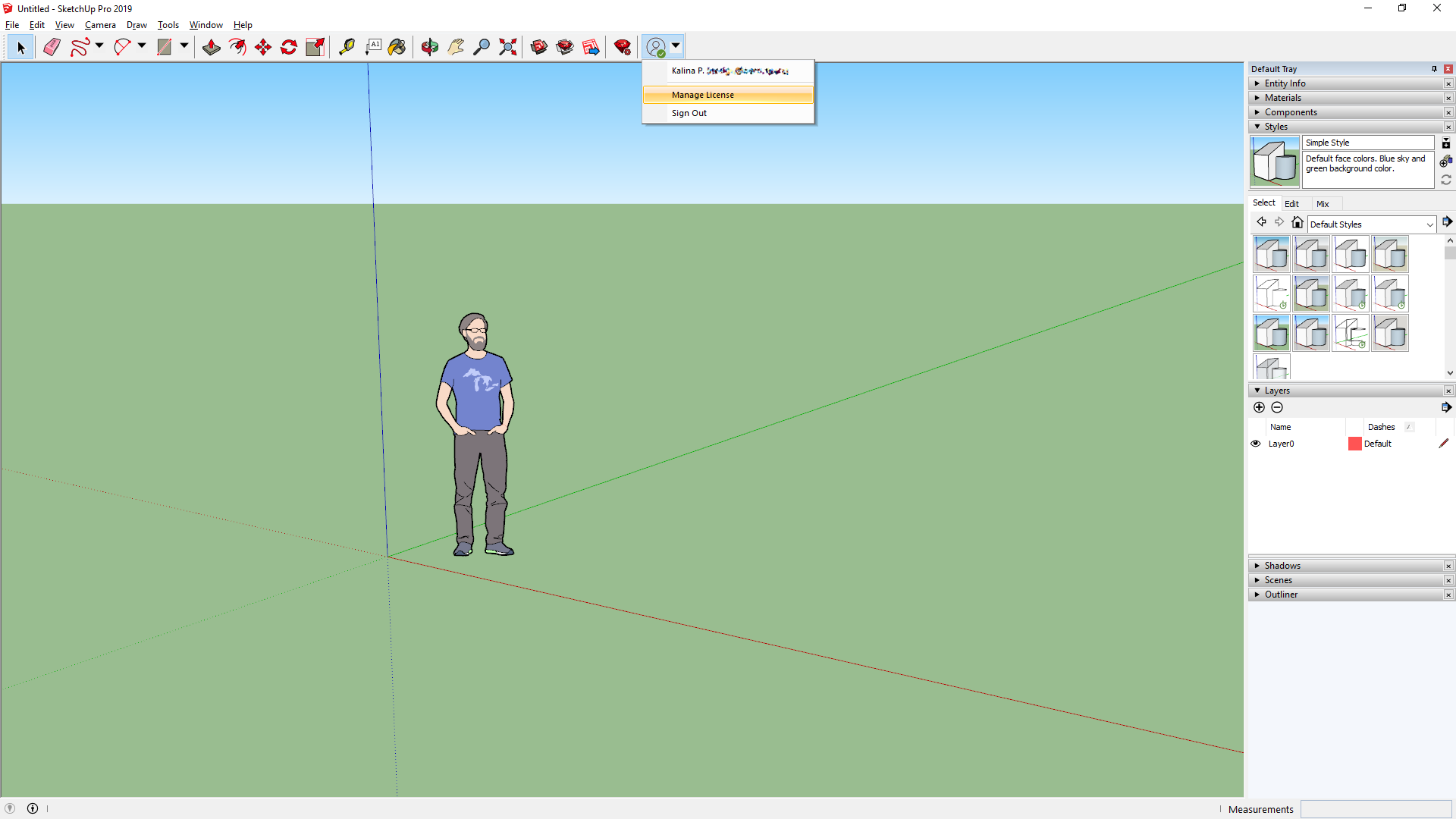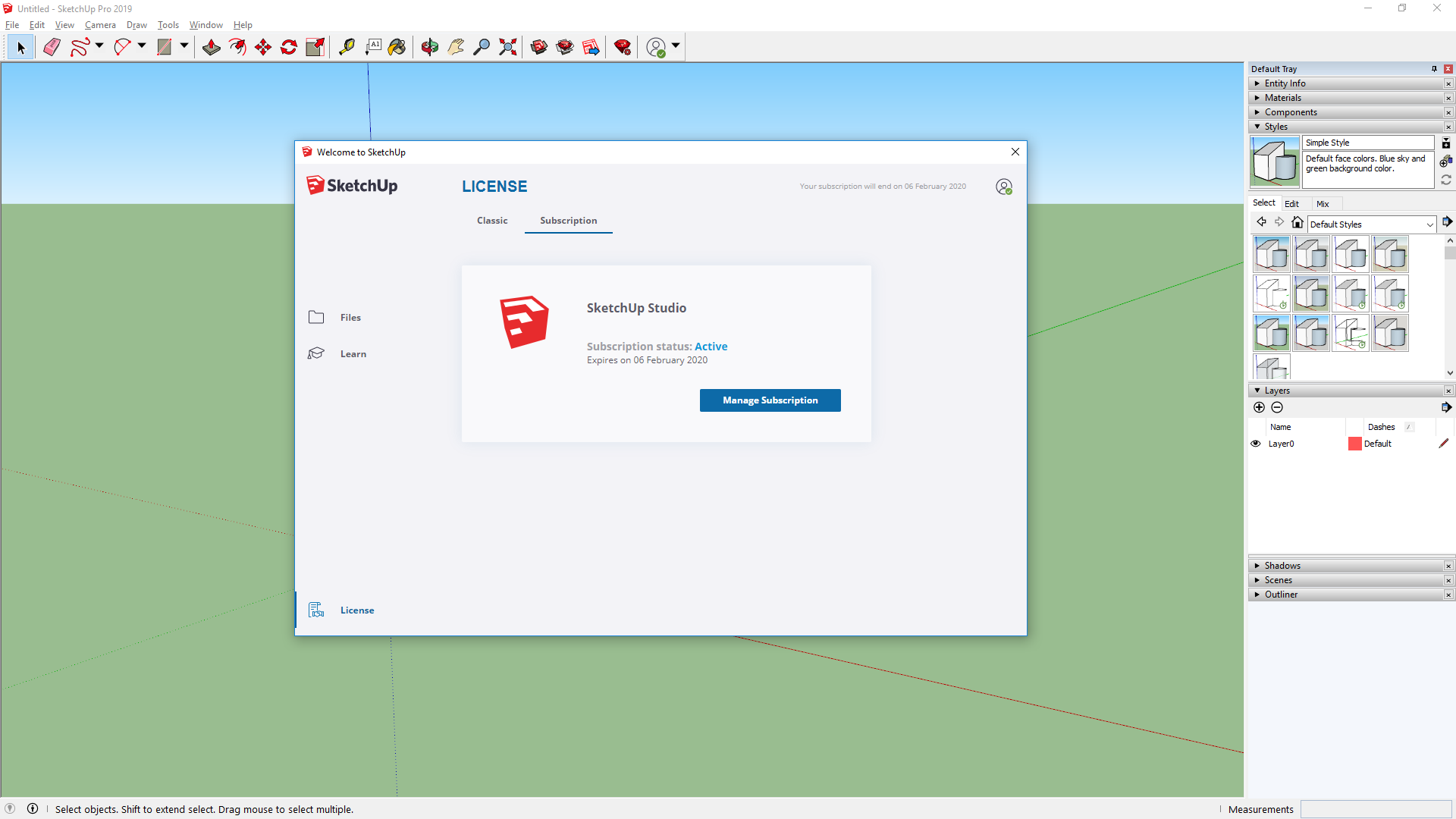 Besides the subscription, another thing that greets the user when opening the software is the new Welcome panel. The window has the well familiar options to choose a template for your scene (don't forget to set it correctly (
https://www.youtube.com/watch?v=bz-pFhv9rNg
) but also a new addition – a learning section with shortcuts to many amazing ways to update, refresh and widen your knowledge.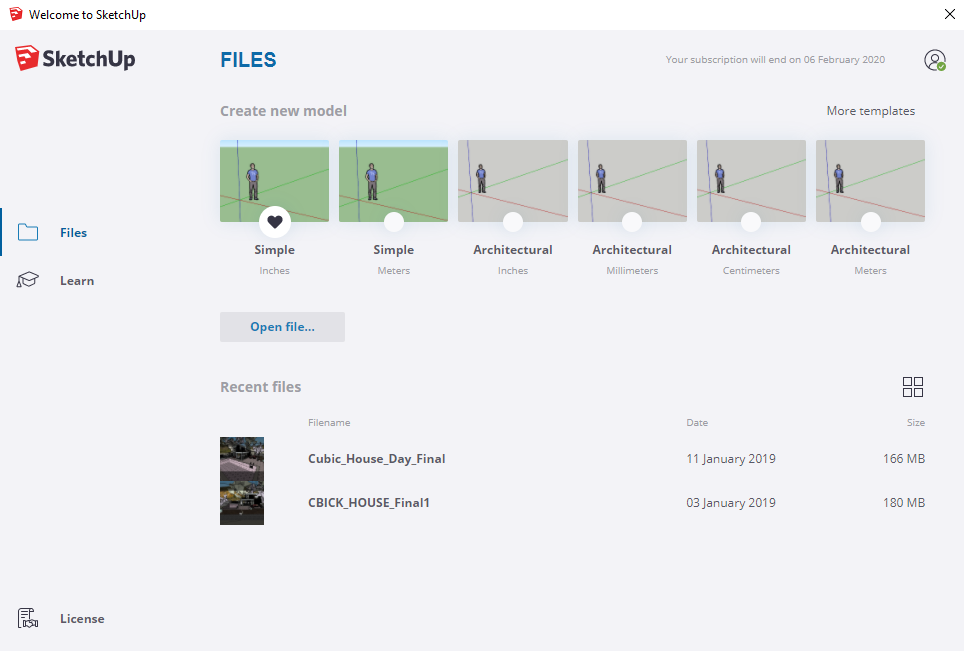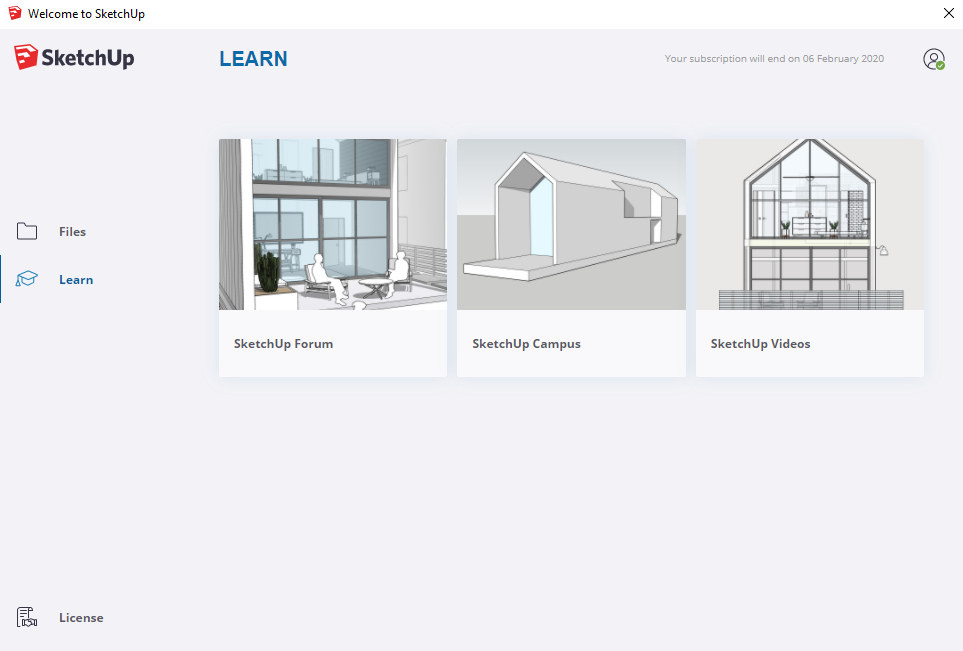 Modeling and Organization Tools
In
SketchUp Pro 2019
you can take advantage of the great modeling and organization tools that SketchUp users are familiar with. Besides the standard organization tools like Groups and Components, there is a new addition in the Layers panel allowing you to dash a specific layer for a different type of visibility. This can be used as an architectural tool representing a different piece of the geometry or something that has not been cleared out and needs more discussion.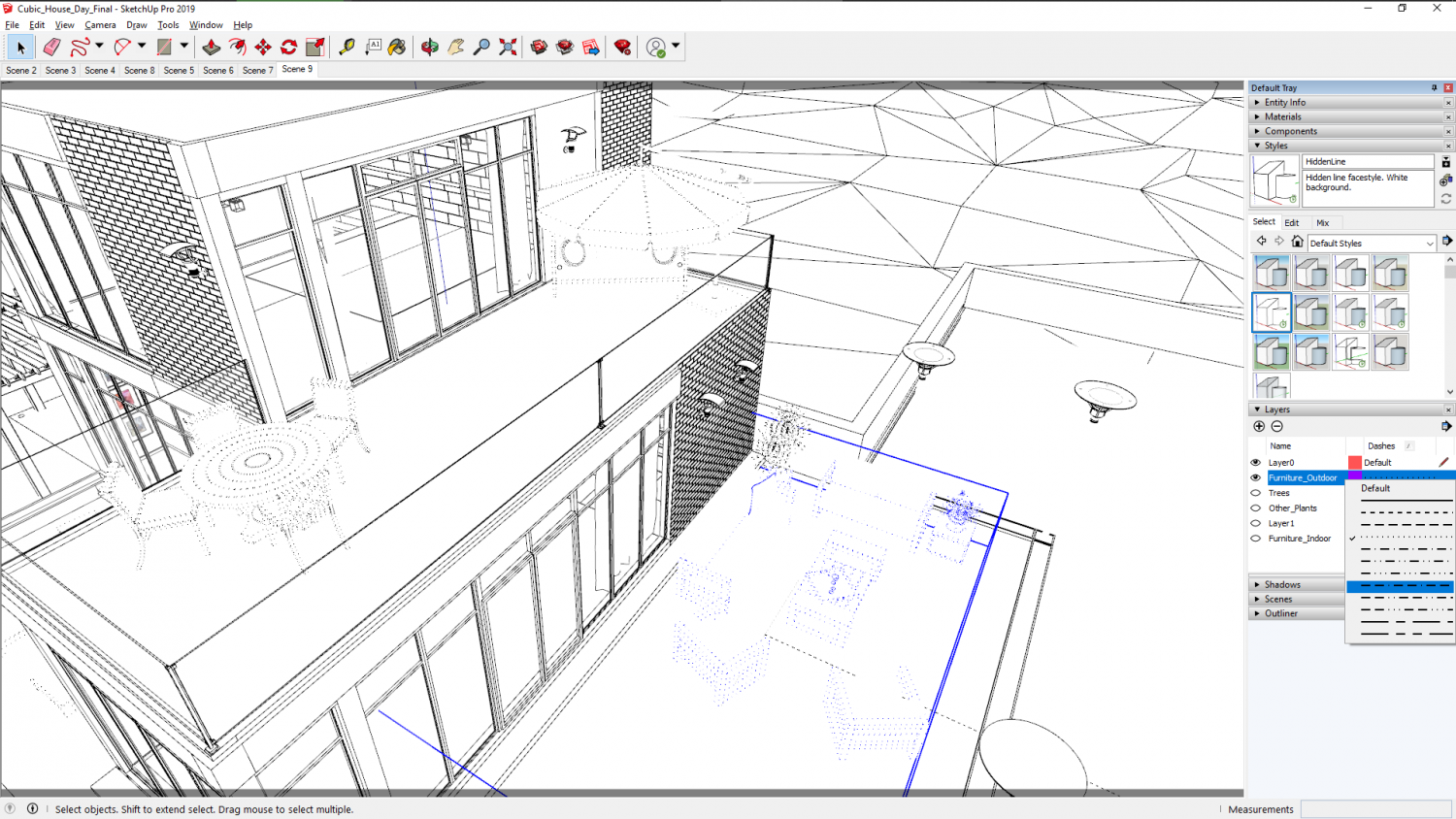 The Outliner
A tool that is not very widely used among the SketchUp community but can be of great help when it comes to scene organization and moving around the model is the Outliner. In this panel, you can see all of the pieces of geometry inside the model and manage them, quickly, with just a one-click selection workflow. Still, a great recommendation when working with the Outliner is to have it minimized when saving your project as it can still result in a save slow down when being opened.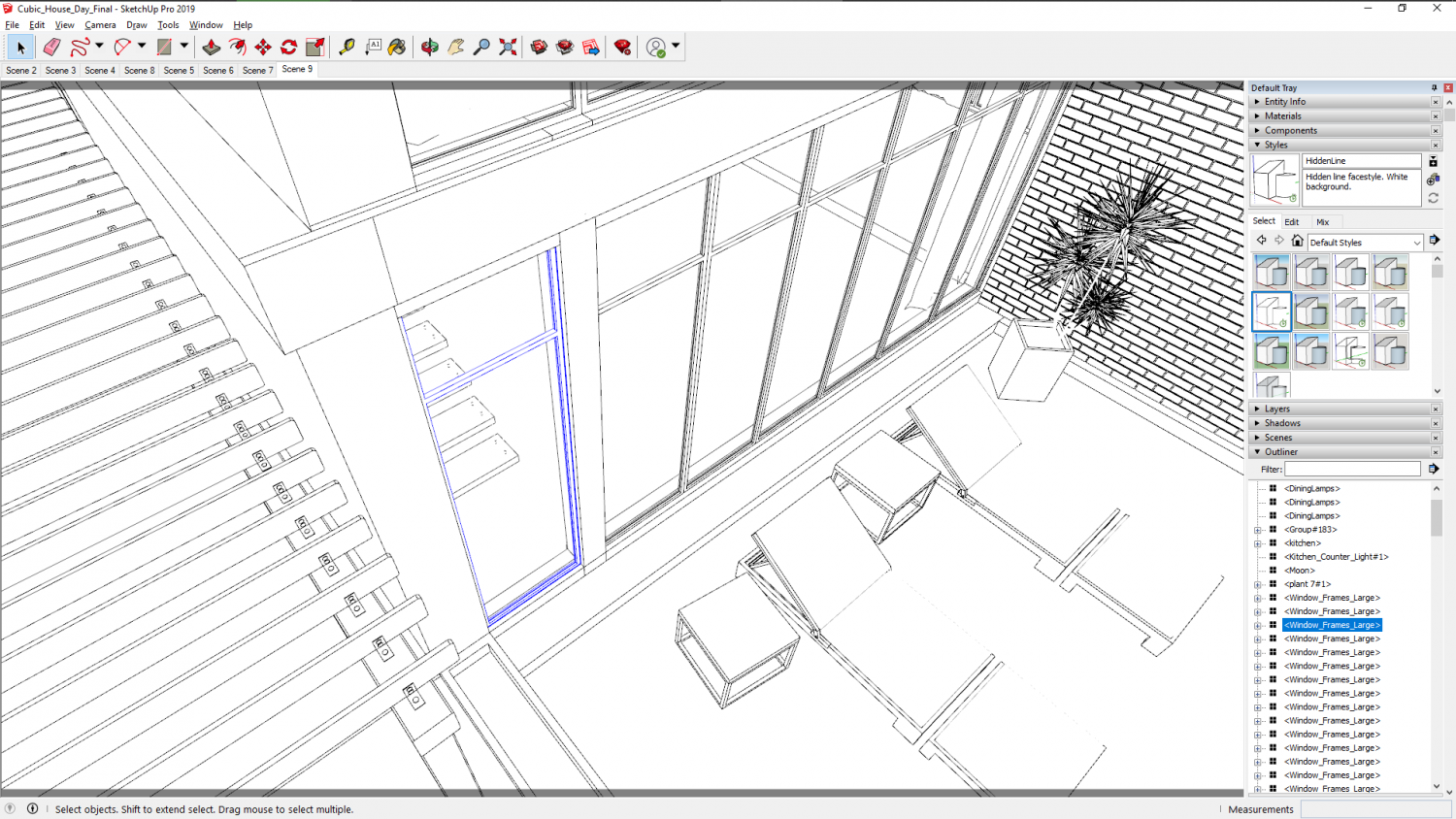 Something that many old users cherish in SketchUp and is one of the building stones of the program is, of course, the easy, accurate modeling.
Just by typing in real-world values you can create the desired building plans.
Not only that it is very easy to use real architectural designs, but in SketchUp 2019 importing of .dwg files is also optimized, allowing you to have a great model ready with just a few steps. This allows SketchUp visualizers to communicate the designs with the architect easily, or if you yourself are an architectural professional – use your already created plans for "building" the desired structure.
3D Warehouse
Another reason SketchUp has been a favorite among designers for years is the 3D Warehouse. For those of you who are not familiar with it, the 3D Warehouse is a great library of pre-made geometry assets that are ready for use. It allows people to spend less time modeling a specific piece and more time thinking about the design they have in mind, creating the space and feeling of the visualization. It is one of the best friends of every artist working in SketchUp. In the latest update, searching for a model in the 3D Warehouse is optimized by the addition of Categories.
This allows you to find the right model faster every time!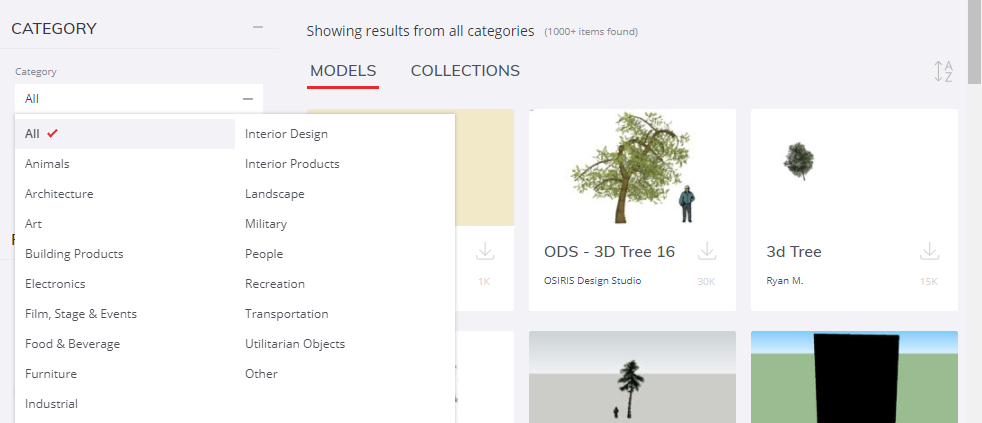 As many users are familiar with, normally every SketchUp launch comes with a few versions, allowing you to choose the one that is most useful for you. An interesting new addition to the family is the SketchUp Studio option which allows you to take advantage of Sefaira. Sefaira is a great architectural tool designed for creating Performance-Based Design. Or in other words – with the help of Sefaira you can calculate the light in your future architectural design and have accurate information on how the building will perform in the real world. You can calculate heating, energy distribution and so on – just to create the proper light analysis your clients have been requesting for years.
Additional Plugins
SketchUp has always been very welcoming when it comes to additional plugins speeding up the workflow or just adding more value to the whole experience. One of the most famous plugins for SketchUp is V-Ray, which is a rendering engine aimed at higher quality photorealistic visualizations. With the launch of SketchUp 2019, there is a completely new launch with the newest V-Ray version – V-Ray Next. If you are interested in knowing more, how you can accomplish better visualization easily – stay tuned, What is Next in V-Ray Next is coming…